After installation there is no sound or audio playing music or video , or no sound on carplay and bluetooth call, if no sound when choosing "manual Aux switching mode", it is problem of wiring usually,
1.First please set the Aux swithing mode to Manual as below video, if it dont have sound, auto Aux switch dont have sound also,
Routes:Settings-Factory(Key:2018)-Vehicle-AUX Switching Modes

1.1.The original car interface selects AUX and then returns to Android to play music.

AUX switching mode set manually: https://youtu.be/6iieNn_cwT4
Note: Some cars do not have the AUX option and need to go into Android factory mode to activate it, see item 5 for instructions.
2. If you have connected Aux input?

3.Have you relocated your fiber optic cables? Click for details.
Note: Some models do not come with fiber optics, so don't bother if your car doesn't have fiber optics.
4.The Mercedes Benz NTG4.0 and NTG4.5 power cords have two plugs for pairing protocols, and plugging these two plugs incorrectly can result in no sound, harsh squealing, protocol failure, and other problems.
Mercedes 4.0 cars just plug the NTG4.0 header.
For Mercedes 4.5, plug in the NTG4.5 header.

5.If there is no "Aux" option under the original Audio menu, you need to activate Aux in the Android factory settings first.
Enter the "Factory Mode" in the Android interface, click "AUX Activation"", then the original owner will automatically restart the original, after restarting you can see the "AUX" option under the "Audio" menu in the original interface.
Routes:Settings-Factory(Key:2018)-Vehicle



Mercedes-Benz NTG4.5 AUX activation operation video: https://youtu.be/t1dQ_WRDHzA
Note: Only cars with Mercedes Benz NTG4.5 system can activate the AUX function, which is not supported by Mercedes Benz NTG4.0 system.
6.Some car cannot active Aux, need go to "engineering mode ".
6.1.press 1+#+hang up, three buttons together on panel for 8seconds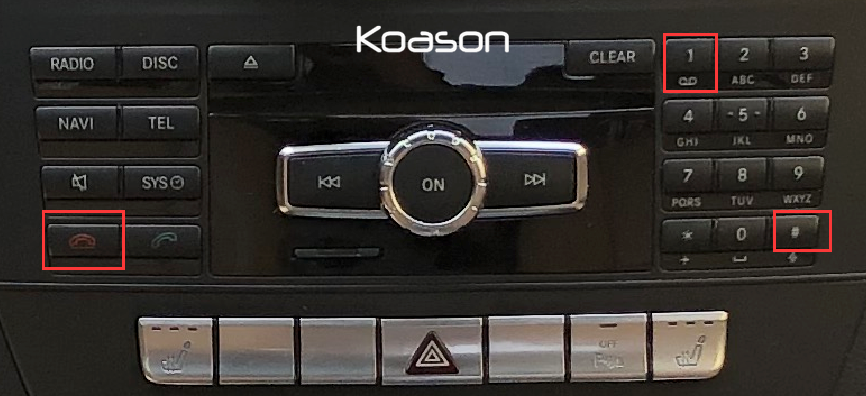 6.2.Engineering mode-- 7 HW Setting--7.7 HU Parameter--4.Audio AUX :ON; Engineer mode --9. System Reset